With the exam seasons approaching, schools and universities have been offering a vast range of alternative stress therapy's to encourage relaxation and lift spirits through the lengthy stressful exam period. A light hearted look at the different ways that schools and universities are helping students deal with exam pressure – from Hug a Pug Days to Bubble Wrap Stations.
Animal Therapy
One of the most popular activities on offer at many universities is animal therapy where students are given the opportunity to cuddle with little fluffy friends such as puppies, micro pigs and even miniature horses. Glasgow Caledonian University received a visit from Hank the Pug for a day, students were invited along to 'Hug a Pug', in effort to reduce stress symptoms. Following in these footsteps, Bath Spa University played host to a Shetland pony for the day. With Puppy rooms being popular events at many major universities – what is the association with exam stress? Scientific studies do actually show that canine interaction increases a humans oxytocin levels, a hormone which reduces anxiety and blood pressure.
Napping Space
According to The Telegraph, The University of East Anglia have recently introduced Napping Rooms in the library where you can book 40 minute slots to nap amongst the cushions, bean bags and twinkly night lights. These rooms were introduced with the objective to steer students away from 'all-nighters', improving their cognitive abilities during exam season. The room has fitted with CCTV and strict instruction not 'misuse' the room.
Midnight Breakfast Club
Various universities have begun offering a late night breakfast service to keep your fuel levels up through late night library sessions, free buffet breakfasts through the night for the night-owls in the library.
Inflatable Assault Course
In an effort to lift the students spirits and get active in the lengthy exam period, University of Leicester went the extra mile, and offered students a go on a large inflatable assault course sponsered by Up&GO, to get a fun and exciting study break.
Bubble Wrap Stations
The University of Leicester also provided bubble wrap popping station at their campus with the aim of reducing stress whilst bubble wrap popping. Students reported that popping bubble wrap was more stress-relieving than yoga and meditation, BBC.
Hot Chocolate and chill
To encourage socialising amongst students without alcohol which can inhibit productivity in such crucial times, one university has offered Hot Chocolate and Chill nights, a chance to relax and listen to some good music, watch a film and catch up with friends with a nice hot chocolate.
Ball pool
Students at the university of Plymouth have been working towards getting an adult ball pool at their students union called the Stress Less Ball Pool. According to a BBC article, they have been trying to raise funds for a ball pool big enough for people at a time.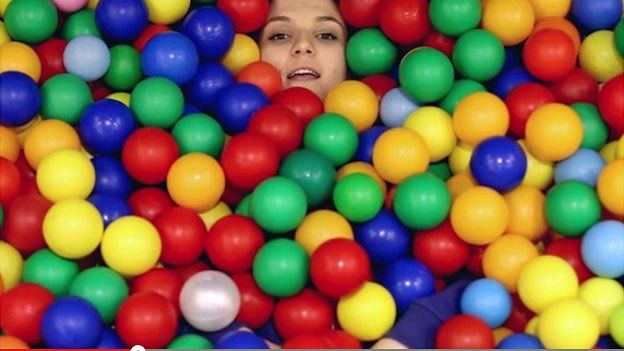 What other crazy events would you like to see offered to combat exam related stress? Let us know on Twitter!